Major General Albert "Bert" Newton Stubblebine III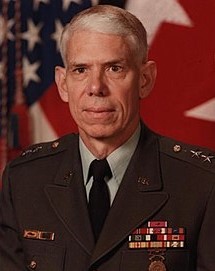 (1930-2017) was a major general in the United States Army whose active career spanned 32 years. During his time as commanding general of the US Army Intelligence and Security Command (INSCOM) from 1981 to 1984, after which he retired from active service, he was credited with redesigning the intelligence service architecture of the US Army.
"I told you, if you either did it or believe in it, you probably would be out of your mind because everyone knows that that is not a doable do, can't do that, however, we can and we do, so first of all let me tell you a little bit about what remote viewing is. It is independent of time, OK? So I can go past, I can go present, I can go future. It is independent of location, so I can go anywhere on this earth, I can go into any closet, I can go into any mind, I can access that information at any location that I choose. It is independent of space, therefore, I can access that information any place in on the planet or off of it if I choose; and it is independent of countermeasures, I believe I put a caveat on the last one, not a caveat on the first, small caveat on the last one because all of the research has not been done at this stage on the countermeasures."

– Maj. Gen. Albert Stubblebine, during his time as commander of U.S. Army Intelligence and Security Command (INSCOM).
It was only after his retirement that the full extent of Stubblebine's interest in PSI phenomena (in the interests of psychic warfare) became known. He is considered the main sponsor of the famous STAR GATE project and massively supported further research. Stubblebine was a co-founder and former board member of the American remote viewing company PSI TECH, which became successful with the application of RV in the public sector and still exists today as an RV service provider, although the players are now different. For his service in the Vietnam War, Stubblebine was with the Legion of Merit and the Bronze Star Medal excellent.
As one of the main sponsors of the STAR GATE project in Fort Meade, Maryland, Stubblebine believed in the reality of a wide variety of psychological phenomena. Stubblebine was a key figure in the US military invasion of Grenada (1983) and, according to a report in the Daily Mail, was "the heart of the American military machine" at the time. After some controversy about the experiments with supernatural phenomena, Stubblebine went into "early retirement" in the army in 1984. In addition to alleged security breaches by unchecked civilian remote viewers working in Sensitive Compartmented Information Facilities (SCIFs), Stubblebine "quarreled" then Chief of Staff of the US Army, Gen. John Adams Wickham, Jr., by offering to do so at a gala ceremony to perform a feat of spoon bending. Wickham associated such phenomena with Satanism.
Stubblebine's successor as INSCOM commander was Major General Harry Soyster, who had a reputation for being a far more conservative and conventional intelligence officer. Soyster was inaccessible for the continuation of paranormal experiments and the army's involvement in the STAR GATE project ended during his tenure, but not until 1995.
After Stubblebine retired from the army, he worked as a vice president for the BDM Corporation. In 1990 he was inducted into the Military Intelligence Hall of Fame. He has also worked part-time as a consultant for two government contractors, ERIM and Space Applications Corporation.
---